DAVIS CUP: U.S. CLINCHES QUARTERFINAL BERTH
Sock and Johnson defeat Switzerland In World Group First Round Tie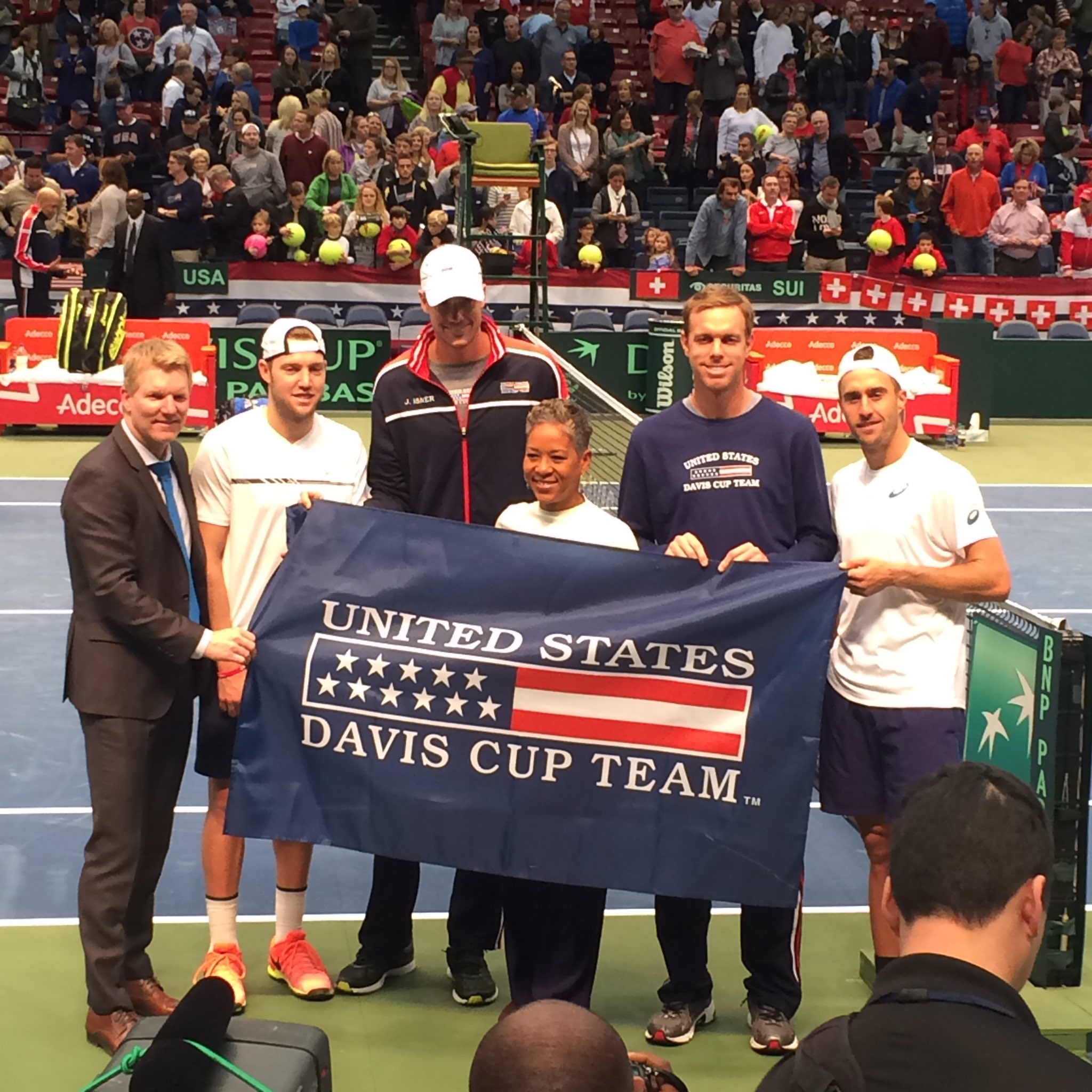 By Junior Williams
(February 4, 2017) BIRMINGHAM, Alabama – For the clincher, United States Davis Cup Captain Jim Courier called on the 2016 Olympic bronze medal doubles team.
Jack Sock and Steve Johnson delivered for the U.S. with a 7-6(3), 6-3, 7-6(5) victory over Switzerland's Adrien Bossel and Henri Laaksonen. The win gives the Americans an insurmountable 3-0 lead in this World Group first round tie, advancing to the quarterfinals, where they'll face Australia on the road for a second consecutive year.
Both Courier and Swiss Captain Severin Luthi switched up their originally scheduled lineups: Jack Sock replaced Sam Querrey for the Americans, while Luthi went with Laaksonen instead of Antoine Bellier. Laaksonen had an impressive return of serve during Friday's second singles rubber, despite losing to John Isner in four sets.
The U.S. took the lead in the first set, winning a tiebreak capped by a Steve Johnson forehand winner up the sideline to go up 6-3, followed by a Johnson forehand that was hit long by the Swiss. The Americans won 85-percent of their first serve points in the set.
Serving in the first game of the second set, Jack Sock vehemently disputed a lineman's foot fault call, but to no avail. As the game went on the U.S. found itself in a 0-40 hole, but eventually staved off those three break points and held serve. The Americans broke the Swiss in the next game, which ended with a thrilling rally punctuated by a Sock winner at net — bringing fans at the Legacy Arena at Birmingham-Jefferson Convention Complex to their feet.
Both teams exchanged breaks of serve later in the set, but the U.S. went on to win it on a Sock service winner. A stellar performance at the net by Johnson also a major factor contributing to the Americans' two set lead.
Switzerland refused to go quietly. Spurred on by their fans chanting "Hop Suisse," the Swiss team broke the U.S. to go up 3-1 in the third set on a Laaksonen overhead smash at net. But the visitors blew a golden opportunity when the Americans staved off three set points and broke Switzerland to get the set back on serve at 5-4.
.@USDavisCupTeam taking a victory lap in @LegacyArena #USASUI @DavisCup pic.twitter.com/Ysn133IqE3

— Tennis Panorama News (@TennisNewsTPN) February 4, 2017
The U.S. closed out the rubber and clinched the tie by winning a third set tiebreak, which ended with the Swiss at net hitting the ball past the baseline. After each team shook hands, the American team took a victory lap around the court with the U.S. flag, cheered on by the home crowd.
Despite being heavy underdogs without their top guns Roger Federer and Stan Wawrinka, the Swiss have given the U.S. a good fight – and will attempt to remain in Davis Cup's top tier when they compete in the World Group Play-offs this coming September.
"If you lose, it's disappointed that you lost," noted Swiss captain Severin Luthi. "I mean, I'm never like happy when we lose or if I lose. Even if it's card games or whatever, I'm never happy.
"So disappointed. But, again, I have to say the same as yesterday. It wasn't the performance of the players at all, you know. I thought they gave everything. They were, yeah — they had chances first and third set, and unfortunately we just couldn't make it."
Australia will be hosting team USA for a second straight tie, however, the visitor will have choice of ground – hardcourt. Normally nations alternate hosting ties, but the U.S. and Australia played consecutive ties in U.S. in 1997 and 1999, in order for the U.S. to host the 100th anniversary of Davis Cup at the Longwood Cricket Club in Chestnut Hills, Mass., the site of the first-ever Davis Cup tie.
"We're looking forward to the opportunity to go back and battle those guys (Australia) again," said U.S. Davis Cup Captain Jim Courier. "They came through pretty comfortably as well. Hugely talented team. Passionate Davis Cup nation. Had a lot of fun playing down in Melbourne with them.
"Obviously got the result we wanted which makes it a lot more fun, but they're a knowledgeable crowd and they have won a ton of Davis Cups, so they know what it's all about.
"It will be exciting for us to go down. We're already talking about it, looking forward to it. We have work to do tomorrow. We're not your overlooking the matches on Sunday. We will be ready to play tomorrow for sure, even though this thing is decided.
"I think I can speak for all of us when I say we're anxious to get down there and battle on. We really want to get out to the semifinals and see what we can do this year."
Two dead rubbers are scheduled for Sunday – and we have yet to see Querrey and Bellier play in this tie.
Junior Williams is a long-time journalist and tennis fan. At a moment's notice, he can give you a list of all the Davis Cup match-ups that would give the USA home ties. He is in Birmingham, Alabama covering the Davis Cup first round World Group tie between the United States and Switzerland for Tennis Panorama News.
.@USDavisCupTeam @usta Prez @katadams68 @DavisCup pic.twitter.com/AO3w2wIL5r

— Tennis Panorama News (@TennisNewsTPN) February 4, 2017